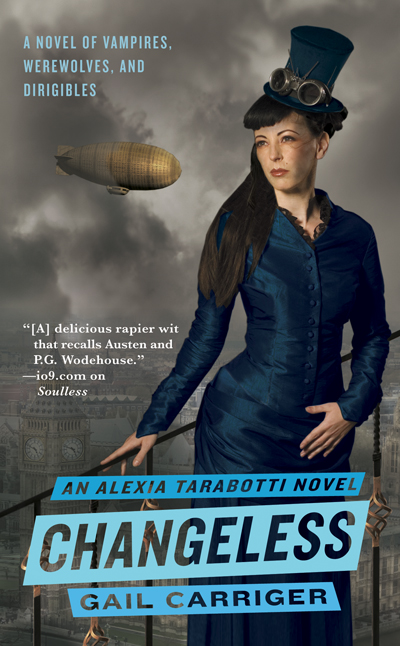 Changeless by
Gail Carriger
Genre: Adult Steampunk Fantasy
Released: (April 2010)
Rating: 4.5 out of 5
Source: Purchased
My Cover Blurb: "Wondrously Witty!"
Summary:
Alexia Tarabotti, the Lady Woolsey, awakens in the wee hours of the mid-afternoon to find her husband, who should be decently asleep like any normal werewolf, yelling at the top of his lungs. Then he disappears - leaving her to deal with a regiment of supernatural soldiers encamped on her doorstep, a plethora of exorcised ghosts, and an angry Queen Victoria.
But Alexia is armed with her trusty parasol, the latest fashions, and an arsenal of biting civility. Even when her investigations take her to Scotland, the backwater of ugly waistcoats, she is prepared: upending werewolf pack dynamics as only the soulless can.
She might even find time to track down her wayward husband, if she feels like it.
Overall:
I loved this book much like a I expected I would after reading Soulless. I had read quite a few really good reviews for book 1, but a lot of those same reviewers did not care for book 2 as much, I'm really not sure why. It had much the same in the way of style and story as book one and I liked it just as much. Carriger has a way of writing that is unlike anything out there. It's witty, spunky and extremely well done.
I loved all the characters especially the new character Madame Lefoux with her inventions and rather unusual way of dressing. Alexia of course is still one of my favorite heroines, and even though she must stay within the confines of British society and etiquette of the Victoria era she is still one bad-ass female.
I give this 4.5 out of 5
The Parasol Protectorate Series
Book #1 Soulless
Book #2 Changeless
Book #3 Blameless
Book #4 Heartless (June 2011)
Book #5 Timeless (March 2012)
* Get your Parasol Protectorate GetGlue sticker