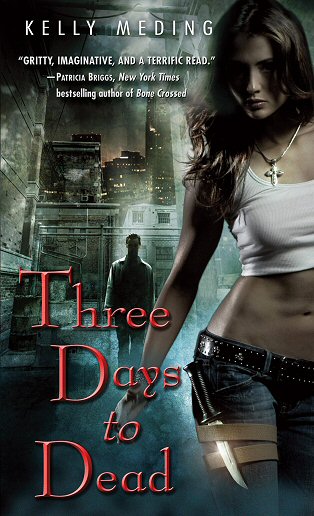 Three Days to Dead by
Kelly Meding
Genre: Adult Urban Fantasy
Released: (Nov 2009)
Rating: 4 out of 5
My Cover Blurb: "Kick Ass Debut!"
Summary: She's young, deadly, and hunted—with only three days to solve her own murder…
When Evangeline Stone wakes up naked and bruised on a cold slab at the morgue – in a stranger's body, with no memory of who she is and how she got there – her troubles are only just beginning. Before that night, she and the other two members of her Triad were star bounty hunters — mercilessly cleansing the city of the murderous creatures living in the shadows, from vampires to shape-shifters to trolls. Then something terrible happened that not only cost all three of them their lives, but also convinced the city's other Hunters that Evy was a traitor . . . and she can't even remember what it was.
Now she's a fugitive, piecing together her memory, trying to deal some serious justice – and discovering that she has only three days to solve her own murder before the reincarnation spell wears off. Because in three days, Evy will die again – but this time, there's no second chance…
Pros:
-I love strong female characters and Evy is no exception, she has no trouble keeping up, even though she's not in her own body.
-Props for world building, and new twist on otherworldy creatures
-Action packed, none of the story lagged
-Enough sexual tension without it taking over. I'm not a huge fan of graphic sex scenes and there was none of that in this book.
Cons:
- I don't have any specific cons for this book, it was good, but wasn't oh-my-goodness-I-can't-put-this-down enough for me to rate this a 5
Overall: I really enjoyed this book. It did not disappoint. Action, adventure, and a kick ass female that can never be brought down! I'd recommend for any Urban Fantasy lover, especially for those who love strong female characters. I will definitely be buying the next in this series.
I give this 4 out of 5
Dreg City Series
Book #1 Three Days to Dead
Book #2 As Lie The Dead
Book #3 Another Kind of Dead (July 26 2011)
Book #4 Wrong Side of Dead (2012)