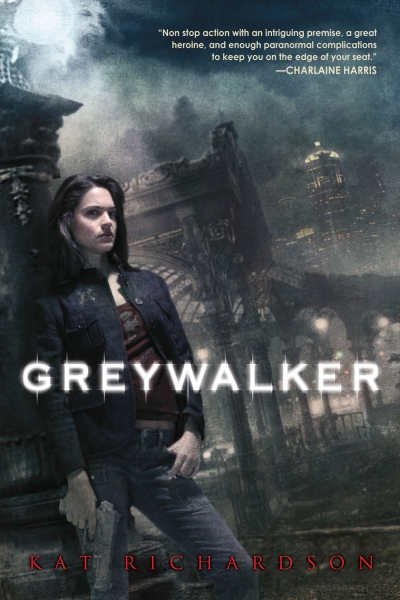 Greywalker by Kat Richardson
Released: Oct 2006
Genre: Urban Fantasy
Rating: 4.25 out of 5
Source: Purchased from The Book Depository
Sexual Content: Not much, some references to sex
My Cover Blurb: "Enter the fascinating world of the Grey"
Summary:
Recovering from a near-fatal accident, Seattle Private Investigator Harper Blaine develops the ability to move through the Grey: the realm of ghosts, vampires, witches, and magic that exists between our world and the next. Harper wants her life to return to normal, but when her clients turn out to be paranormal, the reluctant Greywalker is drawn into the affairs of ambitious vampires and angry ghosts. As her cases converge, Harper uncovers a plot that threatens Seattle's Grey world and must choose between honor and survival.
My Thoughts:
It's always great when I take a chance reading a new author and get more out of it than expected. I loved Greywalker. Granted, some of the story was way way over my head. I couldn't wrap my head around some of the mythology and I had a hard time picturing what the world of "Grey" looked like, but from what I did understand I enjoyed. Harper is a strong woman, self reliant and independent. She is a PI that had a case turn bad and ended up with her being dead for a few minutes. Ever since then her cases turn out to be something from the "Grey", which is another way of saying something supernatural. She gets in the middle of a vampire tiff as well as a malevolent ghost looking for a powerful object. I loved being taken along Harper's journey, she didn't just accept the Grey right on. It took her a while to fully believe that this other world existed all around her and for her to figure out what she could do in it. She's got a lot more to learn I think and I look forward to finding out what's next for Harper in book 2.
Would recommend to any urban fantasy fan especially fans of Jenna Black's Dark Descendant.
Greywalker Series
Book #1 - Greywalker
Book #2 - Poltergeist
Book #3 - Underground
Book #4 - Vanished
Book #5 - Labyrinth
Book #6 - Downpour (Aug 2011)